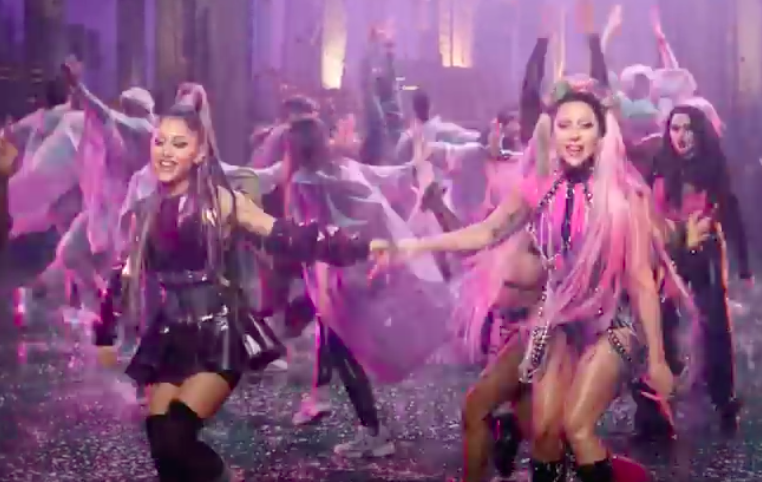 Lady Gaga and Ariana Grande have just dropped their hit collab single. "Rain On Me", forms part of the much-waited-for album of Lady Gaga. In fact, the two super stars surprised the world with their hit collab single, promoting it through social media. As the two stars have been teasing us with lyrics from the song for a while, it's no wonder that everyone got a little too excited with the hit collab single dropped.
Gaga's Chromatica Album Comes After 4 Years Since Her Last One
Yes. Gaga has finally returned after 4 years of long-waiting. In fact, her album came out in 2016 Joanne, which became her fourth consecutive record to reach number one in the United States. In addition, she scored major points back in February, when she released her first single of the new album, called Stupid Love.
On the other hand, Ariana Grande has been having a pretty good year. After her hit song ''Thank you, Next" has been leading the charts for the past month.
"Rain On Me" Is Already Trending
This is actually the second collab of Lady Gaga's new album, following  "Sine From Above," featuring Elton John. She actually admitted that Ariana made the first move, and was insisting on releasing a single with her. According to several sources, "Chromatica" was initially scheduled for release on April 10, but Gaga announced in March that she was postponing its debut due to the coronavirus pandemic.
Will This Song Be 'The Hit' Of This Summer?
Moreover, and in light of the current crisis of Covid-19, many artists reschedules their albums release. However, Lady Gaga's smart move, dropping two collar-singles during "lockdown", may actually be in her advantage. Furthermore, this upbeat song with a futuristic techno-pop vibe, is expected to become the hit of the summer. Lady Gaga also admitted that she chose the date of the release, after her "show" at Coachella didn't happen, as the festival was canceled this year.
Photos: Instagram, Youtube.