This past Sunday marked the annual biggest awards night in American television, The Emmys. While many television shows and networks went away as true winners that night (HBO with 9 wins, the show "Fleabag" with 4), one of the biggest moments of the night didn't come from the winner's podium. Rather, the most cringe-worthy moment came when Kim Kardashian and Kendall Jenner presented the award for "Outstanding Reality TV."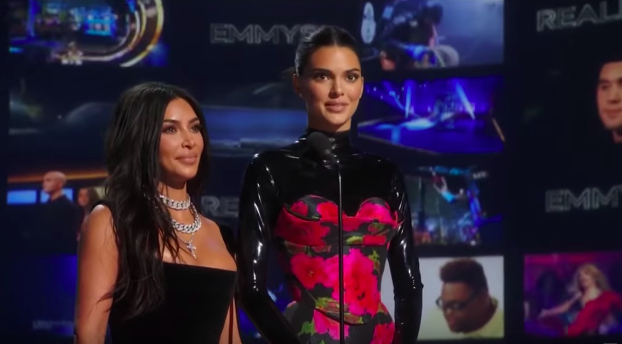 A Not-So-Real Reality
Kim and Kendall are famous for being part of the 5 sisters that star on "Keeping Up With The Kardashians." The show follows their lives, through all their drama living as millionaires (and billionaires). When they went to present the award for Reality TV, Kim told the audience "Our family knows firsthand how truly compelling television comes from real people just being themselves."
Kendall then continued the speech in a serious tone, "Telling their stories unfiltered and unscripted." Despite the two claiming their lives are completely unfiltered and real in front of the camera, it appeared the Emmys audience had a different perspective as they burst out laughing at the two stars.
The Twitter Jokes Following The Emmys
Although the audience was in an uproar, by the looks of Kim and Kendall's faces, they thought the moment was anything but funny. The oh-so-awkward moment soon became the source of many jokes on Twitter.
The audience laugh when Kim Kardashian said her family knows about real people. #Emmys pic.twitter.com/as55V2akqC

— #wandpocket ??‍? (@311tessa) September 23, 2019
Kim Kardashian: "Our family knows first-hand how truly compelling television comes from real people just being themselves."

Kendall Jenner: "Telling their stories, unfiltered and unscripted."

The rest of us:#Emmys pic.twitter.com/NW9ZaFhEZO

— Ishani Nath (@ishaninath) September 23, 2019
Let us never forget that the entire Emmys crowd laughed at Kim Kardashian and Kendall Jenner when they described their show as "real," "unscripted," and "them being themselves."

— joey thee italian (@ohokjoey) September 23, 2019
A Misunderstanding
It turns out, the lines by Kim and Kendall were supposed to be a joke, but the two sisters never got the memo before hand. They were not informed prior to reading the teleprompter to give the award that it should be tongue-in-cheek. As a result, well… they became the fools of the Emmys. Maybe this is a sign for Kim to start focusing less on Reality TV and more on her Law Bar exam…
Photos: Youtube: Shared News