Even if you're not a die-hard fan, the majority of us have at least caught a glimpse of The Bachelor/Bachelorette Series. While it's fairly ridiculous to believe someone will find true love from 2 months of dating on a reality show competition, we can't help but relish in the drama. This season proved to be no exception to the case, with Hannah B having the most insane and shocking Bachelorette Finale EVER.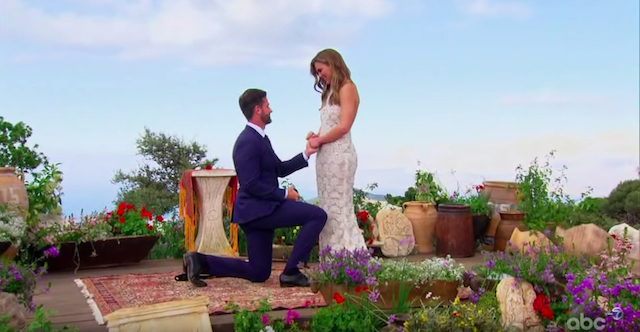 To give a quick update for those who didn't watch this season: the main Bachelorette looking for love was Hannah Brown, former contestant on The Bachelor season 23. This Alabama native was known for being the spunky country gal who was always up for some candid goofy fun. She was ultimately chosen for The Bachelorette for this reason, as she decided to pursue her soulmate one more time among 30 wooing lads.
Fast Forward To The Finale
There was lots of drama throughout the season, but the finale is what really took the cake. Fans were heartbroken that Hannah gave her final rose to country singer Jed Wyatt, ending the relationship with the Tyler Cameron, the crowd favorite.Once she made her decision, Jed Wyatt went down on one knee and he proposed to Hannah. Which naturally, she accepted (and would soon regret).
BACHELORETTE SPOILER #bachelorettefinale pic.twitter.com/5KbNZGiSIx

— Rachel (@RachinTheStars) July 31, 2019
The Drama Ensues
However, unbeknownst to Hannah, Jed had been DATING ANOTHER GIRL! The full reveal was shared in People magazine, with an interview with the girlfriend, Haley Stevens. Stevens said Wyatt decided to go on the show after they had been dating for four months as a way to catapult his career. Even though The Bachelorette is a total publicity stunt, to go on the show while DATING ANOTHER is just criminal!
jed had a girlfriend while on the bachelorette…. pic.twitter.com/cdt9MDxjGn

— Kay (@mkaylamarie14) June 18, 2019
#TheBachelorette

Actual footage of me after reading all the tea about bachelor in paradise, Jed and who Hannah B is engaged to… pic.twitter.com/OMXcy3Tvfr

— Bitchy Bachelorette (@BachelorBitchy) June 19, 2019
A Frenzy For The Finale
Once Hannah found out about the bomb, fans were scared she'd make the mistake of sticking with Jed. When she confronted him, he tried to come up with an excuse but it fell flat. Thankfully, she didn't put up with the lies and she RIPPED OFF THE RING!
All of us when Hannah TOOK OFF THE RING#TheBachelorette #TheBacheloretteFinale pic.twitter.com/HdJEnTkBzX

— Ramiro Paredes (@RamiroParedes) July 31, 2019
A Second Chance At Love
After she ripped off the ring, Hannah went for some remorse… and asked Tyler if he would give her another chance. Many fans were happy that he did indeed accept the offer to go on a date together. However, others felt the pain of being the "second choice," a place that Tyler never deserves.
I know about 98% of Bachelor Nation is happy about what happened at the end of the show, but I'm just gonna say it: Tyler is too good to be Hannah's backup plan (to Jed of all people). #TheBacheloretteFinale pic.twitter.com/YJkJvdwdXK

— Michael Peters (@mpeters_10) July 31, 2019
Whether the two will last the rest of the summer and if Jed will get back with his other gf are both big question marks, but we're sure the tabloids will help us follow the drama that's sure to ensue.
Photos: Youtube EyeWitness News ABC7NY