Regardless of the season, it is important to care for your skin both for cosmetic and health reasons. That said, during the sunny and sweltering months of summer, it's extra necessary to take proper precautions to prevent any damage caused by the sun. This rings especially true for tattoos, both new and old. Without the proper care, your tattoo can fade, change color, or even cause unwanted scarring.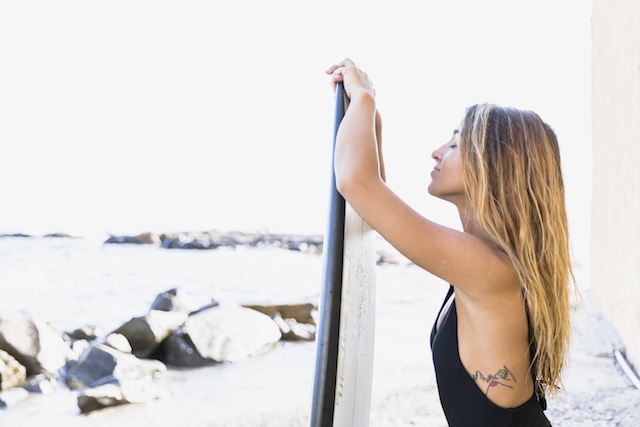 In order to make sure your beloved ink stays looking good as new, we have the following tips for protecting your tattoo this summer. After spending all that money to get inked in the first place, you might as well take the measures to get your money's worth!
Enhance Recovery With Tattoo Balms
Typically a tattoo takes 2-3 weeks to fully heal. During that time, it is crucial to keep the tattoo moisturized and given the proper conditioning with balms that contain allantoin. This ingredient helps the area to heal faster, and other natural moisturizing ingredients like coconut oil help to prevent dryness.
Slather On Mineral SPF
The biggest culprit for tattoo discoloration and fading is the sun, particularly if it's a fresh tattoo. Any bright colors used for an ink that is still healing are very susceptible to changing colors. Even black ink can start to turn an ugly greenish hue. The best way to prevent this change is by wearing a mineral based sunscreen every day. It may seem like a hassle, but the results are worth it!
Cover Large Tattoos With Sun Guard
You might think wearing clothing to prevent any tattoo exposure is sufficient, but in reality our clothing doesn't act as a perfect barrier from the sun. To make sure your tattoo is fully protected, try washing your clothing with Sun Guard, which adds SPF protection to your clothing through the wash.
Avoid UV Light
The sun's rays aren't the only source for causing skin damage. UV light, often at nail salons or tanning beds, directly puts your tattoo in harms way in causing color change and fading. Not only that, but direct exposure to UV light also increases your risk of skin cancer.
Photos: Freepik