You've just spent half an hour doing your makeup for a night on the town, complete with the perfect cat eye, when five minutes later you can already feel your face melting off. You haven't even left your damn apartment, let alone entered a hot and sweaty bar… Ugh!
Summer can be a serious struggle when it comes to looking your best, but we've got the secret to keeping your face looking flawless all night long: setting powder.
All Setting Makeup Is Not Alike
You've probably already heard of a setting spray, which is a polymer-infused liquid spray to keep your makeup intact, however adding an extra layer of liquid to your face is not what you want to be doing in the summer. Talk about a sweaty, sticky situation…
Grease Free Is The Way To Be
That's why setting powder serves as a real savior this summer. Instead of spraying on, this powder is delicately applied on top of your foundation with a powder brush. The ingredients are packed with oil-absorbing minerals, so your makeup is never greasy and stays put in the heat. While it's especially useful during the summer time, given its grease-reducing properties, it is also a great makeup tool to have in your arsenal year round if your skin tends to be oily or combination.
Look Younger In Seconds
In addition to absorbing oil, setting powders enhance your makeup look by blurring fine creases and lines to make you instantly look younger. This way, you avoid getting the dreaded makeup that cakes and builds up in your wrinkles. No shame in having them, but that doesn't mean you have to highlight fine lines for everyone to see!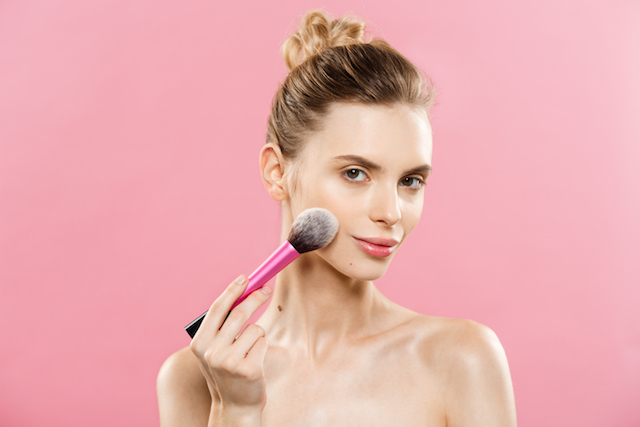 Setting powder is also great for reducing the appearance of your pores. This way your skin looks smooth and soft all day long.
A Versatile Addition To Your Makeup Bag
It's safe to say setting powder is a very versatile product, because you don't need to apply it to your whole face for it to be effective. Just a few dabs on common problem spots along the "T-Zone" is enough to make a big impact on the durability of your makeup look. So long sweaty, hello sexy!
Photos: Freepik