Tired of using Tinder with absolutely zero luck? There's a new dating app in town, and it's being run by none other than Facebook, the biggest social network in the world. Facebook Dating (yes, a super original name) will accompany the platform, allowing you to create a separate profile for dating. And it's completely free!
Facebook Dating launches in the United States today https://t.co/g5jY0tK9LB pic.twitter.com/5M74qz2tJq

— The Verge (@verge) September 5, 2019
How Will Facebook Dating Work?
Rather than have a separate app entirely, Facebook Dating will be located within the app with its own tab (next to Events and Groups). It will function like other dating applications that require you to select to join the app in order to be seen and also view other possible matches. Unlike Tinder, Facebook Dating will use an actual algorithm to help you find a suitable contender, based on your interests, location, mutual friends, and preset preferences. Finally, you might actually have a chance with that guy you crushed on in high school!
How Will You Appear In Your Profile?
Since it is connected to your Facebook account, only the first name that you have listed will show, along with your age. You then have the option to share other information, such as your gender, the gender you are interested in, any photos from your profile, job, hometown, etc.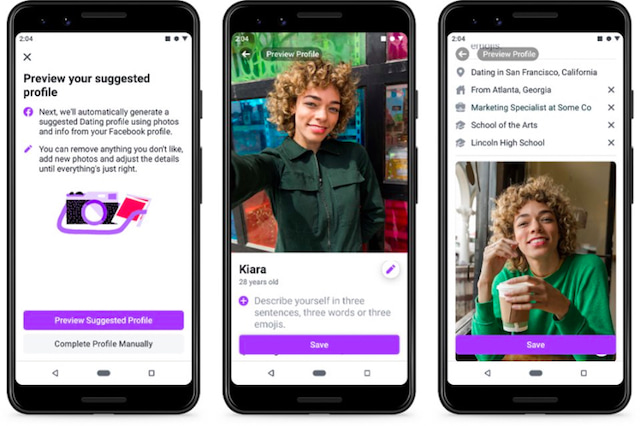 So Long, Swiping!
If you have had enough with the swiping, you can rest easy knowing that there is NO swiping on Facebook Dating. Instead, if you are interested in a person's profile, you can leave a comment or hit a like button for them to know. If you don't like a profile you see, simply hit "X" and you will be shown the next one.
Fear Not- No Family Here!
If you are worried about your family members popping up among potential matches, fear not! Facebook Dating does not pair you with any Friends, only "friends of friends." However, if you have been thinking about that one cutie from high school, you still have the potential to become matches. How? By the "Secret Crush List," where you add all the people who you have "crushes" on, and if they add you then you are both notified.
Increased Safety With Facebook Dating
Many people have been afraid to use dating apps for the fear of going out with a total stranger. What if they are a serial killer?! While the chances of that are very slim, Facebook Dating has implemented a feature to make it safer than its counterpart dating apps– by adding the option to share your live location with your friends on Messenger. You can step out in confidence your next date, and who knows… Maybe finally find the one!
Photos: Twitter: @MichaelFNunez , @verge