Jade rollers are an increasingly popular tool in skincare. Some people swear by the benefits of using the smooth green jade on their face, and others claim it to be a big waste of money. Before you decide to purchase or forego adding this tool to your beauty routine, we have all the details.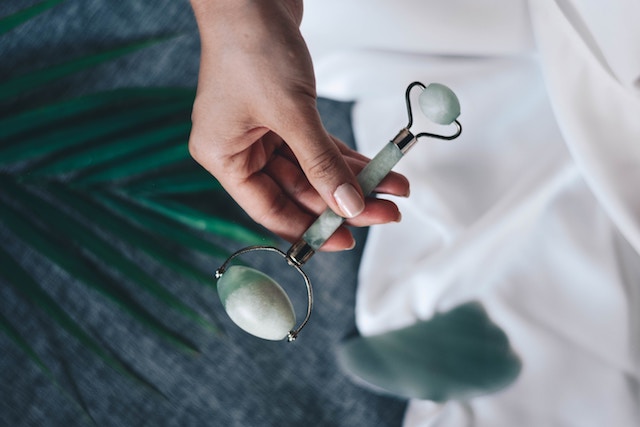 Can Jade Rollers Cure Your Acne?
Hate to break it, but jade rollers are not the magical cure for acne. Many brands sell this tool as helping to reduce breakouts, but the reality is this product does nothing for zits. A better treatment for breakouts would be using a salicylic acid face wash or spot treatment once a day.
What Skin Benefit Do Jade Rollers Provide?
Do you use a jade roller with your skin care routine? If not, here's why you should start.. ?? pic.twitter.com/vovVL8L0go

— 22naturoils (@22naturoils) March 19, 2019
While they can't banish your breakouts and wrinkles, jade rollers can help with reducing your puffiness. The rolling motions on your face helps to increase lymphatic drainage, meaning your face will appear leaner and less tired from just waking up. It is also best to use the roller after you have already applied moisturizer or toner on your face, to feel more relaxed and smooth the product evenly into your skin. As of now there is no data to backup if the roller helps for facial products to penetrate better, but this is also a potential bonus from using the stones on your skin.
How To Use A Jade Roller
As intuitive as it may seem, there is a wrong and right way to using a jade roller. This beauty routine was part of ancient Chinese rituals to create movement underneath the skin's surface. But rather than smoothing it all over your face in haphazard strokes like you would with painting a wall, you should roll in specific directions.
It is best to start with rolling in downward motions around the neck area to open circulation to your face. Then roll the stone on your cheeks in an outward motion before hitting your forehead in a downward then horizontal direction. This should help to get the best results if used daily!
Photos: Unsplash