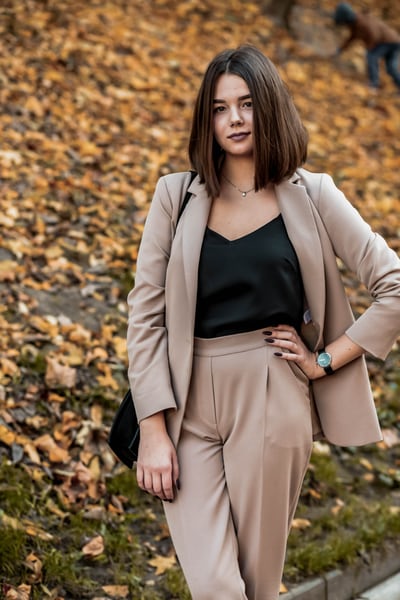 I think that by now, we're all aware that blazers are a growing trend. But, what's the best way to wear a blazer, though? In reality, this fashionable piece has become one of the most popular year-round. However, every season, you should style it differently to look sleek, classy, and to match the weather and occasions. Initially, blazers were commonly worn by men over their suits to add an air of sophistication. However, female celebrities have popularized the trend in Hollywood, and it quickly became a global fashion must-have. So, without further ado, here are 4 ways you can style your blazer this Spring!
Oversized
Keep it simple is one of the many ways to style a blazer. If you're going for the Kendall Jenner look on the red carpet or a sophisticated look for an office case, we've got you covered. Be sure to choose the right blazers, though: The item is oversized. In reality, since oversized blazers are so long, you won't need to wear anything underneath them. Choose your favorite color and the appropriate fabric for the occasion, then add some finishing touches.
Bralette And A Skirt
Don't worry if you think wearing a blazer over your underwear is a bit too daring; we've got you covered. Nothing looks better than a nice bralette, a skirt (long or short), and a blazer on top as a party outfit. In reality, this outfit is ideal for a night out with the girls or a date. You can also flaunt your figure without going overboard.
Casual Blazer
Blazers may also be worn with a casual dress or jeans. In addition, a pair of cargo pants and a cute crop top are needed. Adding a blazer to your ensemble instead of a jacket would elevate it from simple-casual to chic-casual.
Add Accessories
More outfits for the crowd! And it's possible that this is one of the most common ways to wear a blazer. Putting a belt on it, whether it's an oversized one or a normal body-shaper, is 100 percent fashionable. In addition, styling your blazer with a skirt or a dress underneath, would look fabulous with some over-the-knee boots.
Photos: Unsplash.